Chewing gum removal and street cleaning
Chewing gum is an unsightly but increasingly growing problem.
Let Clean Break solve your problem, we can remove chewing gum from all public spaces and we offer a nationwide/national service. We can cover anything from select one off jobs to a large contract covering the whole town or city. Night and weekend working is also no problem.
Pavements, footpaths, block paving, car parks, driveways or walls - Whenever and wherever chewing gum is a problem we can clean it off.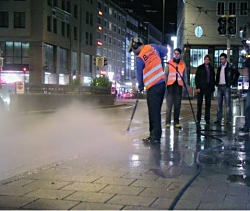 Unlike most of the competition we use the latest equipment and clean the whole area in one go. No chewing gum is left on the floor and no unsightly marks that show the chewing gum has been removed as the whole area is steam cleaned. We can use up to 500 bar pressure and water temperatures of 100°C at the tip of the nozzle.
We can use the pressure with a self contained unit or with an open lance depending which is suitable for the surroundings and the type of surface that the gum is being removed from.
Using the latest technology means there is no need for any chemicals at all in our work, setting us aside from the competition and keeping a very positive, environmentally friendly attitude
If you feel maintaining your own sites would be a more cost effective method, we can also supply gum removal machines together with the appropriate training in using and maintaining them.